RESINS FOR AQUEOUS APPLICATIONS

A large collection of reversed phase, medium hydrophobicity and various ion exchange resins are available for fast and simple testing.
Typical properties of generic resins are:
Porosity: mesoporous – optimal for small molecules
Cross-linking: moderate cross-linkage
Particle size: ca 200 – 1200 µm
Resins can be categorized as follows:
1) hydrophobic reversed phase (RP) resins (eg benzyl and methyl ester)
2) medium hydrophobicity resins (Phenol, amide, methyl ester)
3) ionic exchange resins with 4 different variants (WAX: primary, secondary and tertiary amines, SAX: quaternary amines, WCX: carboxyl and SCX: sulfonic acid)
Typically, a starting point for exploratory screening evaluations could be a generic resin kit. 
For many unknown or new separation routes, it is advisable to evaluate a number of resins. This will enable a quick evaluation of the retention behaviour in the mixture – to either retain the target molecule or to remove undesired or disturbing compounds. 
Generic resin collection can be tailor-made to fit to a certain application.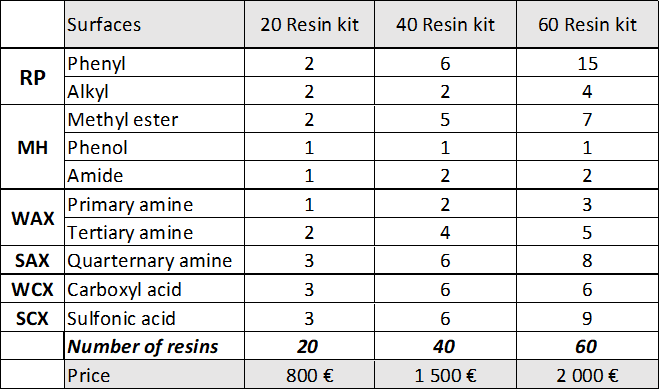 Kits are available to evaluate generic resins: see table to the left.
Larger quantities or resin in column can be provided. Pls inquire:
Email: info@redstone-sep.com 
Phone: +46-738-156-130  (Call times during CET: 8.00 – 18.00)